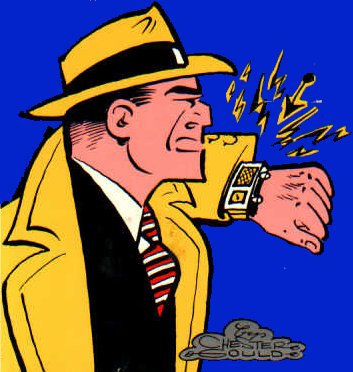 Once again Chicago Alderman Burt Natarus has opened his mouth on the City Council floor, and once again something totally insane popped out. From this week's Chicago Reader:

Last week's City Council meeting was pretty sedate, but there were still some signs of election anxiety. At one point finance committee chair Ed Burke, sponsor of an ordinance that would require the city to fund live podcasts of council meetings, was interrupted by 42nd Ward alderman Burton Natarus. "It's the 75th anniversary of Dick Tracy!" Natarus shouted without warning. He said he was introducing a resolution commemorating the famous comic-strip detective. "I have a lot of Dick Tracy magazines," he said proudly.
"Comic books," Mayor Daley corrected him.
If Alderman Burt Natarus wasn't responsible for overseeing over a $5 BILLION taxpayer-funded budget, if Chicago's schools weren't in such an awful state, if their weren't nearly 36,000 violent crimes committed against Chicago residents last year, if City government wasn't rife with corruption, and if people weren't being forced out of their homes by skyrocketing property taxes, Burt Natarus's infantile attention span would be comical. But it's not.
Way to keep your eye on the ball, Alderman.